InsureTAXI Team Up With Kindertons
November 6, 2009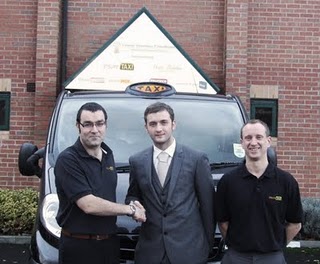 Dave Clapp (MD, left) and Tim Crighton with Richard Goodwin (centre) from Kindertons
Cheshire based Insurance Broker 'InsureTAXI' has teamed up with the Accident Management Company Kindertons to offer their policy holders a full vehicle claims service.
InsureTAXI is one of the leading brands of County Insurance Consultants and is currently the fastest growing taxi insurance broker in the UK.
Whilst getting a competitive taxi insurance policy is vital to InsureTAXI's customers, it's also of paramount importance that Taxi Drivers get a replacement vehicle straight away if they have an accident so they can continue to earn a living.
So, in looking for a partner, InsureTAXI needed an accident management company that matched their own high levels of service for their expanding base of insured taxi drivers.
Kindertons fitted the bill perfectly.
Kindertons, with their Head Office based in Cheshire and multiple vehicle depots nationwide provide an efficient but friendly claims service for all insureTAXI policy holders. The service offers the customer peace of mind in their time of need providing a 24 hour claims line, guaranteed replacement plated vehicles, approved vehicle repairs and also the potential of having to pay no excess on their vehicle policy.
Tim Crighton, Marketing Consultant for Insure Taxi added "Aligning the Kindertons service with our own is a fantastic opportunity for us, allowing all our policy holders to have the full backing of Kindertons expertise if involved in a vehicle accident. This partnership allows InsureTAXI clients a complete solution including a replacement plated vehicle. It's very important to us that our clients can keep earning money in the event of an accident and get a good quality replacement vehicle".
About InsureTAXI and County Insurance
InsureTAXI is a trading name of County Insurance and provides insurance cover for single policy holders through to large taxi fleets.
Our large and growing taxi customer base means we get access to market leading rates, so can offer competitive rates nationwide. InsureTAXI prides itself on excellent levels of service and dedicated teams that fully understand customer's needs – and this is reflected in a 85%+ renewal rate.
For cheap taxi insurance and great service, InsureTAXI are one of the best in the UK taxi insurance market.
For more information visit InsureTAXI online at InsureTAXI.com
Other brands of County Insurance include insureCOURIER, insureHGV and insureFLEET
For a wide range of commercial insurance visit our corporate website countyins.com