insureTAXI's Taxi Insurance Team: Hot wax, cold chests and lots of pain to raise money to buy presents for the children at Leighton Hospital
December 23, 2011
As a child, a stay in hospital can be a daunting experience and even more so around Christmas time.  Our taxi insurance team wanted to do something to make their Christmas a little better.  They decided to raise money to buy presents for the children staying in the local hospital in a novel and rather painful way!
Steve Burns, Jonny Kettle and Adam Caccamo all volunteered to have their chests waxed in front of the whole company, on the proviso that everybody donated money towards Christmas gifts for the kids in the children's ward at Leighton hospital.
A local beautician kindly volunteered her time to do the waxing – however our staff members were allowed to pull off strips for £2 a go!
The 3 volunteers did not quite realise what an eye watering experience it was – the pictures tell the story(!) – However, it was all for a fantastic cause and well over £500 was raised.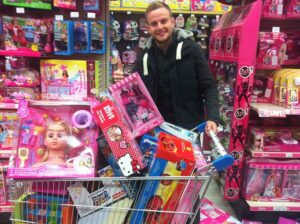 Sue Palin, from the children's ward at Leighton hospital said "We're very grateful to the staff at County Insurance and it was lovely to see the children's faces as they received their presents"
The taxi insurance team delivered the presents on Thursday 22nd December.  Steve Burns said "It was a privilege to meet and chat to the children.  We were delighted to surprise them with the gifts!"
Posted by Tim Crighton