insureTAXI wins Business of the Year award!
April 20, 2012
insureTAXI, part of the County Insurance Group, wins prestigious Business of the Year award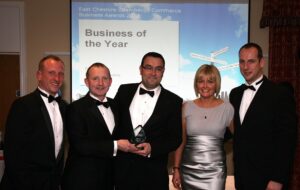 The third annual East Cheshire Chamber of Commerce Business Awards were held at Cranage Hall on Friday 30th March 2012.
On a highly successful night 13 prestigious awards were presented (from over 160 entries) to East Cheshire businesses in recognition of their outstanding achievements and commitment to excellence over the past year. There were 16 tables and 260 people at the awards, showing there are plenty of thriving businesses in the region despite the tough economic climate.
insureTAXI are part of the County Insurance Group, employing 75 staff and with offices in Crewe and Southport. Whilst taxi insurance is a significant part of the overall business, County Insurance also provide private car insurance, home insurance, fleet insurance and business insurance.
insureTAXI / County Insurance were one of several nominations in the hard fought and prestigious Business of the Year Award.
County Insurance are both delighted and honoured to have come out as the winners for 2012 as the East Cheshire Chamber Business of the Year. This is following on from having won Professional Service Provider of the Year in 2011.
Dave Clapp, MD of County Insurance comments "We are delighted to have won the Business of the Year award against what was some very stiff competition. I know a lot of the other companies that were in our category whom I have great respect for, and I am really chuffed to have been chosen by the panel as winners of Business of the Year."
Dave continues, "I'd like to publicly thank our staff who are all very dedicated professionals and you don't win awards like this without having an excellent team of people. We have had nearly eight years of sustained but controlled growth, even in the last few years in recessionary trading conditions which is really pleasing.
The high levels of customer service we provide both our personal and business customers' means that not only do we enjoy high levels of customer loyalty, but also benefit from word of mouth recommendations.
Customers obviously hope that they never really need their insurance – but it's vital to provide a superb service when they do, with the foundations of us winning the award of professional service provider last year we went on to have our best year ever in terms of business results so it just shows that the professional service delivered to your customers really does pay.
"We find that providing a first class service on top of competitive pricing is a sound business strategy. In the last few years I believe we have seen a 'flight to quality' for important services such as insurance. You need good advice. There is little point in having an insurance policy if it doesn't cover you for what you believed it should do, which is the danger with internet only companies in this sector
We make sure all staff are fully trained and put many through the professional insurance qualifications. They really do go the extra mile to make sure our customers get the best service and I'm delighted this award recognises this.
My thanks go to our team, all the people that nominated us and to the panel of the East Cheshire Chamber for this award"
———————————————— ENDS ———————————————————————-
County Insurance Consultants are a one stop shop insurance broker based in Cheshire. We offer the full range of personal insurance and business insurance. For online car & home quotes visit www.insurance4your.co.uk.
To speak with one of our specialist taxi insurance team, please call 0800 142 2828.
For business insurance, visit www.countyins.com. Alternatively call 01270 506980 to speak to one of our team
Posted by Tim Crighton