insureTAXI meet friends at Crewe station! With welcome refreshments…
July 23, 2013
One of insureTAXI's insurance partners on our top quality insurance panel are South Essex Insurance Brokers.
They informed us that 4 of their staff were doing a John O' Groats to Lands End charity bike ride and would we be interesting in meeting their riders as they came through Crewe?
insureTAXI decided to go one better and sent our own super-fit Rob Leyland to join them in the saddle on the 80 mile leg to Crewe!
We also sent Phil Stafford – Sales Manager at insureTAXI – down to meet the lads at Crewe Station, one of most famous rail stations in the UK.
Phil came equipped with Burgers (gratefully received!) and Lucozade to replenish the energy and thousands of lost calories.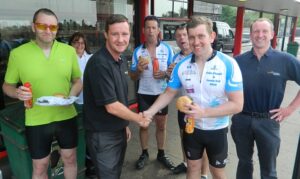 Rob Leyland of insureTAXI in green, with Andy (SEIB) and Phil
insureTAXI congratulates SEIB on their trip so far and wish them all the best for the rest of the ride
Posted by Tim Crighton