Video: What is private hire taxi insurance?
December 30, 2014
One of the questions that our experts get asked on a regular basis is: "What is private hire taxi insurance?"
Obviously the answer to this question is extremely important when it comes to taking out the right form of cover for your needs.
That's why, our team have created this short fun video to explain what private hire taxi insurance is.  Click here to watch the video in full.  Once you have clicked on the link, just select 'Autoplay' on the bottom menu bar and press play.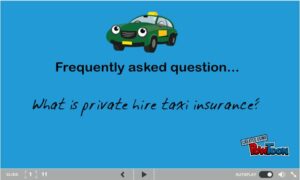 If you're still not sure whether you require private or public hire taxi insurance once you've watched the video, then just give us a quick call on 0333 2000 094. Lines are open 9am to 5.30pm, Monday to Friday.
After taking a few essential details, we'll shop the market for a cheap policy but with all the cover you need 🙂