Our new Worthing branch!
July 13, 2016
As some of you may be aware, in June we opened our brand new branch in Worthing, for The County Group and InsureTAXI. Our new branch is located in an ideal spot on the high street, with parking available to everyone within a short distance of the office itself.
InsureTAXI – part of The County Group – is one of the UK's leading taxi insurance brokers specialising in private and public hire taxi insurance. Cover is available for single vehicles through to large fleets.
Our friendly Worthing team is made up of three expert advisors, Steve Campbell-Lendrum, Steven Murphy and Trudi Best. Branch Director Steve Campbell-Lendrum has over 20 years taxi and general insurance experience and his team of Trudy Best and Steven Murphy are also highly knowledgeable with 35 and 17 years' experience respectively. Each member of our team has invaluable experience, reflected through their service to our valued clients.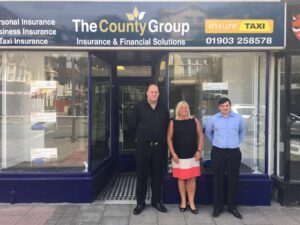 Our branch director, Steve Campbell-Lendrum said "I am excited to be given the opportunity to work with and have the support of County to progress my ambitions, both locally in Worthing and along the south coast. I look forward to a long and fulfilled career, as part of the County group and am hopeful for the future of both my colleagues and myself. I am a born and bred 'Worthingite' and have seen the town go through more ups and downs, than many other seaside towns. I am glad to be playing a part of the growth of the town by being an active part in the local business community"
As our new branch is made up of both The County Group and InsureTAXI, we will be providing a range of different products, including both personal and business insurance. Whichever insurance type you're interested in, we will shop the market for to save you any extra hassle. However, we will also be providing specialised Taxi Insurance policies to clients. Our main aim as being a part of an insurance broker is to find our customers the most affordable policy that can meet their individual needs, as well as finding you an excellent level of cover.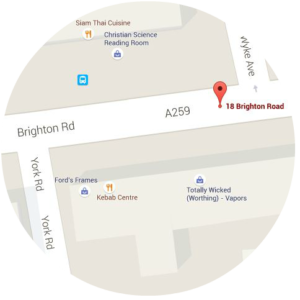 18 Brighton Road,
Worthing,
West Sussex
BN11 3ED
Tel: 01903 258 578
Email: worthing@insuretaxi.com