Brand new centre of excellence in Southport
March 21, 2018
Players from Southport FC have helped us to kick off a new era for insureTAXI.
The team performed the official opening of our new centre of excellence in Southport, which our company insures more than 12,000 cab and taxi drivers across the country.
We are now based on the outskirts of town on Slaidburn Crescent, the centre has been created following the merger of insureTAXI's old Southport office on Princes Street with the Liverpool and Crewe operations.
It creates one large modern office over 7,000 sq ft space at Southport where there are 75 employees in sales, renewals, admin and customer service roles
insureTAXI, part of the national insurance giant The County Group, have now launched a recruitment drive as we aim to increase our workforce in Southport over the forthcoming months.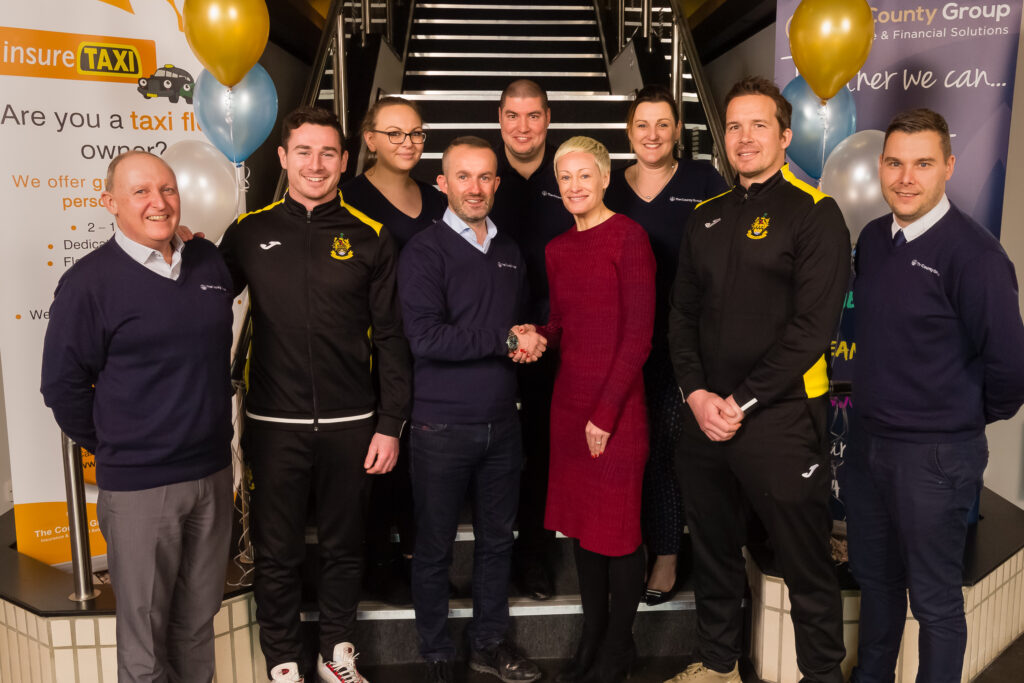 (Southport FC Chief Executive Natalie Atkinson, striker Josh Hine and manager Kevin Davies are seen with The County Group Chief Executive Kevin Catterall (centre) and management team members Gary Fennah, George Wall, Ellie Forster, Karl Garcia and Jennie Jackson at the opening of the new centre of excellence)
Head of marketing Claire Smith said: "We have been established in Southport for more than 10 years and have a great relationship with the town and local people.
 "Most of our employees live locally and people will recognise our name from our association with the football club where County Insurance has been first team shirt sponsors for the past two seasons.
"When it came to creating a centre of excellence for our taxi operation, Southport was our first choice."
The County Group also has a second office on Hoghton Street in Southport town centre which specialises in commercial and business insurance solutions.
Claire added: "The new centre of excellence gives us scope to expand. We hope to attract highly-motivated and enthusiastic professionals into a variety of roles.
 "We also offer apprenticeships and are looking to speak to local colleges and universities for people who want to earn whilst they learn.
 "Getting the right type of people to work in our business is essential. We offer a full induction plan, continuous professional development, a fantastic working environment and competitive salaries."
For more information please give us a call on 01704 530239 and we will be more than happy to help.