2019 Taxi Driver Survey Results
May 21, 2019
The wait is over – the results of our 2019 Taxi Driver Survey are in!
We asked hundreds of taxi drivers across the country a range of questions. The questions were to collect meaningful taxi driver data – such as how many miles do they driver per year and how much do they pay for their insurance per year. However, we also asked some interesting questions like; celebrity passengers, strange items left behind and your funniest/strangest experience behind the wheel. The results from our  Taxi Driver Survey 2019 are below!
Do you use a private hire or public hire vehicle?
As you can see, 65% of our respondents are private hire drivers followed by public hire drivers at 34%. Whilst the last one 1% was a mixture of chauffeurs, limo drivers and drivers who are both private and public hire.
On average, how many miles do you drive per year?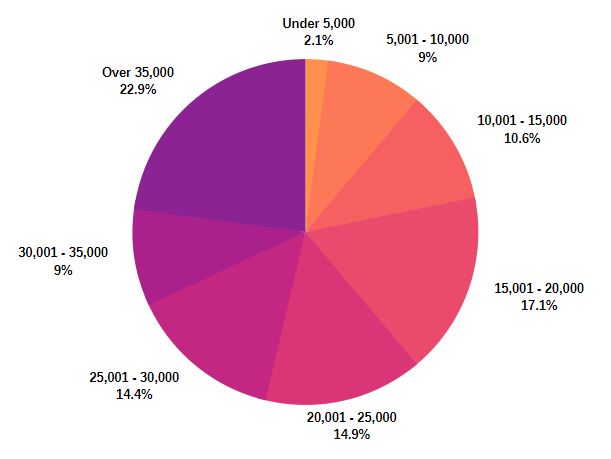 On average, 22% of our taxi drivers are driving over 35,000 miles per year! Followed by 15,001 – 20,000 miles per year. What an incredible amount of miles!
Whilst 2% of our drivers are driving less than 5,000 miles per year, we're guessing these drivers are part time or seasonal.
On average, how much does your insurance premium cost per year?
At insureTAXI, we were very interested to see how much people are paying for their insurance. 47% of our customers have told us that their insurance cost between £1,001 – £2,000 per year. Followed by 23% of drivers are paying £2,001 – £3,000 per year.
The cost of your insurance depends on a number of different factors such as your vehicle, driving history and the number of miles you drive per year. From our last question, you can see many drivers are driving over 35,000 miles per year which will have an effect on your insurance premium.
If you're looking for taxi insurance, why not contact the taxi insurance specialists? As a broker, we have access to a panel of leading taxi insurers with exclusive rates and desirable extras. Call us on 0333 200 0071 for a quote or complete our quote form.
What do you do whilst waiting for a fare?
The most popular past times are listening to the radio, followed by checking emails, social media, talking to other drivers and reading articles, blogs and the news on their phones.
If you're a social media enthusiast, make sure you're following our Facebook and Twitter pages. We share a number of blogs, taxi news and competitions!
The other section was made up of: drivers reading books, watching a movie, television or YouTube, checking past jobs, completing puzzle books, studying or doing some exercise.
Have you experienced any of the following as a taxi driver?
Being a taxi driver means you are going to see a lot of things from passengers, probably somethings that office workers will never see.
From our results, 46% of our drivers have experienced passengers lying on the phone about their location. Over half have had a passenger vomit and a shocking 35% have had a passenger be aggressive towards them.
One of our respondents also said they have experienced a man strip off naked in the back of their cab! Is there anything else you have experienced which isn't listed?
What's the strangest thing that's been left in the back of your cab?
We have learnt from collecting the results of this survey that taxi drivers have had some very strange things left in the back of their cab.
The common items being mobile phones, keys, purses and wallets to a dead fish (a real one), a glove puppet, false teeth, a fake leg and a blow up sheep.
What's the strangest item to be left in the back of your cab?
Have you captured any shocking dash cam footage?
A small percentage of our taxi drivers captured some shocking or surprising dashcam footage. If you have ever captured any interesting dashcam footage, send it into dashcam@insuretaxi.com and if your footage features on our social media pages, you'll receive £20!
Have you ever had a celebrity at the back of your taxi?
We were a little star struck on the number of celebrities that our drivers have been driving around. From the nation's grandad David Attenborough to a number of footballers from Manchester City, Liverpool and Chelsea, Stars from the popular TV show Love Island and much more. Have you ever had a celeb at the back of your taxi? If you have, let us know on our Facebook page.
Tell us the most shocking, surprising or funniest thing you've witnessed
This is one of our favourite parts of our survey, hearing your stories! Some were a little bit too risqué to share, but we did have a great laugh about them. We have decided to share some of our more 'tamed' favourites.
What advice would you give someone who is starting out as a taxi driver?
We received some fantastic pieces of advice about work life balance, passenger safety, driver safety and how to stay calm on the roads. We picked out our top 3 pieces of advice below however if you would like to read more advice from taxi drivers, read our full blog with advice from drivers across the county.
These have been the highlight from our Taxi Driver Survey 2019. If you have anything to share with us or would like to know anything else, get in touch with us through our Twitter or Facebook. We'll be sharing more stories and facts on there too.
If you're looking for taxi insurance, don't forget to get in touch with us. We're one of the leading UK taxi insurance brokers with excellent relationships with some of the leading insurers. Call us on 0333 200 0071 for a quote or complete our quote form.