July 2019 Bulletin
July 22, 2019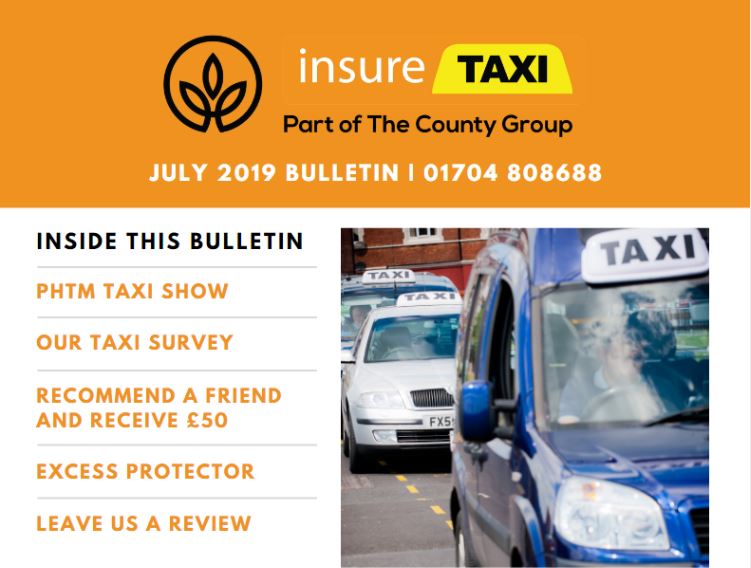 PHTM TAXI SHOW

We were delighted to exhibit at the fantastic PHTM taxi show 2019 on the 12th and 13th of June.
The event was a huge success and took place at the MK stadium. We loved seeing all of you there, whether it was customers, past or present and potential new customers. Thank you for taking the time to come and speak to us at our stand.
We can't wait to see you all there again next year!
OUR TAXI SURVEY

The wait is over – the results of our 2019 Taxi Driver Survey are in! 
We asked hundreds of taxi drivers across the county a range of questions. These questions helped us to understand key aspects of driving a taxi. Such as how many miles do they drive per year and how much they pay for their insurance.
In addition, we also had a bit of fun and asked some interesting questions such as celebrity passengers, strange items left behind and your funniest/strangest experience behind the website.
Read our full taxi survey and if you have any tips or advice you would like to share with us, post them onto our Facebook page.
RECOMMEND A FRIEND AND GET £50

The team at insureTAXI do their utmost to exceed your expectations and make your insurance experience as easy as possible.
Therefore, if you recommend us to friends and family and they take out a policy with insureTAXI, you will receive £50 from us as a thank you.
To recommend a friend, simply ask your friend to complete our Recommend a Friend form or ask them to give us a call on 01704 808688. Even if they're not due for renewal yet, please get in touch and we will contact them closer to the time.
EXCESS PROTECTOR
Having your vehicle damage or stolen can be a stressful enough time without having to worry about how you will pay your insurance excess.
Our Motor Excess Protection Insurance policy is designed to cover your excess payment when you need to make a claim on your taxi insurance policy for accidental damage, fire, theft and vandalism.
For more information or to get a quote for excess protection for your taxi, please get in touch with us.
LEAVE US A REVIEW

If you have taken out a policy with us, thank you!
To ensure you received the very best service from us and continue to do so, we would like to get some feedback from you.
We take pride in our service and are always looking for ways to improve. Leave us a review on our Facebook page or on our Google+ page.