BP pulse charging hub
July 21, 2021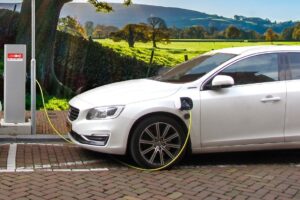 The first BP pulse rapid charging hub in London
Many major cities are becoming Clean Air Zones (CAZ) leading to high demand for electric charging infrastructure. In response to this, BP Pulse has unveiled the UK's first rapid charging hub for fleet vehicles in London. The hub, on Park Lane, currently provides charging for up to 10 vehicles at a time with 12 more chargers now being added. A second hub is also being built in Westminster and more will soon follow across London and other cities. This will support the growing demand for electric charging points, especially from taxis. It is expected that 80% of charging demand will come from taxis and private hire vehicles by 2025.
Uber
Uber are the first customers to be given access to the BP Pulse charging hub. This is an important step for Uber as they plan to solely provide electric cars on their app in London by 2030. As one of the main obstacles facing the transition to electric vehicles is charging points, BP Pulse's charging hub could be paving the way for everyone. If vehicle charging access ceases to be an issue, businesses and individual taxi drivers will feel more confident making the change. BP are also providing other facilities at the charging hubs, where possible, such as WiFi, toilets and refreshments. Further enhancing the use of the hubs means they can also provide sufficient break areas whilst vehicles are charging. This is good news for taxi and other fleet drivers who spend long periods of time on the road.
Jumptech
BP Pulse have also partnered with Jumptech, a specialist software solution provider who enable the installation and roll out of EVs and green technology. This partnership will make charger installation more efficient and improve information sharing. With Jumptech, BP Pulse plan to more than double its current number of public charge points by 2030 including new ultra-fast chargers. These charging points will not just be in cities, but across the whole of the UK. Notably this includes the vast motorway network, making EV charging accessible to everyone, everywhere.
Other cities
In accordance with their Zero Emission Zone (ZEZ) pilot, Oxford City Council are installing more chargers across the city to facilitate taxi and private hire EVs. The strategic locations of the EV chargers will mean that there is always an accessible charging point within five miles of an e-taxi driver at any time.
In Manchester, funding has been secured for 30+ EV charging points dedicated to taxis only. The strategic locations of the charging points will support the implementation of Greater Manchester's Clean Air Zone (CAZ). In addition, there is a £21.4m clean taxi fund to facilitate the transition to e-taxis for drivers and operators. This is part of the £120m Government funding for greener fleets. Click here to read more.
Change is coming fast for taxi drivers, especially those operating in cities. Drivers and operators must keep up to date with the new rules and legislation being introduced in the areas they operate in. CAZ will mean charges for non-low emission vehicles which may prompt decisions to change to e-taxis. For those making the transition, its planning charging stops rather than petrol stops which may initially present a new challenge. However, if embraced, these changes could have a great positive impact on our health and the environment. Air pollution contributes to a range of serious health conditions and also to climate change. With government funding to support those purchasing e-taxis and the consequential reduction of pollution, this could be a win win for everyone.
If you would like to discuss a taxi insurance policy, please contact us or call 0333 200 0071